Dylan Barbadillo
Ss. Constantine & Helen welcomes the newly-chrismated Matthew, here pictured with his young wife Elizabeth, daughters Dyanna and Vivyanna.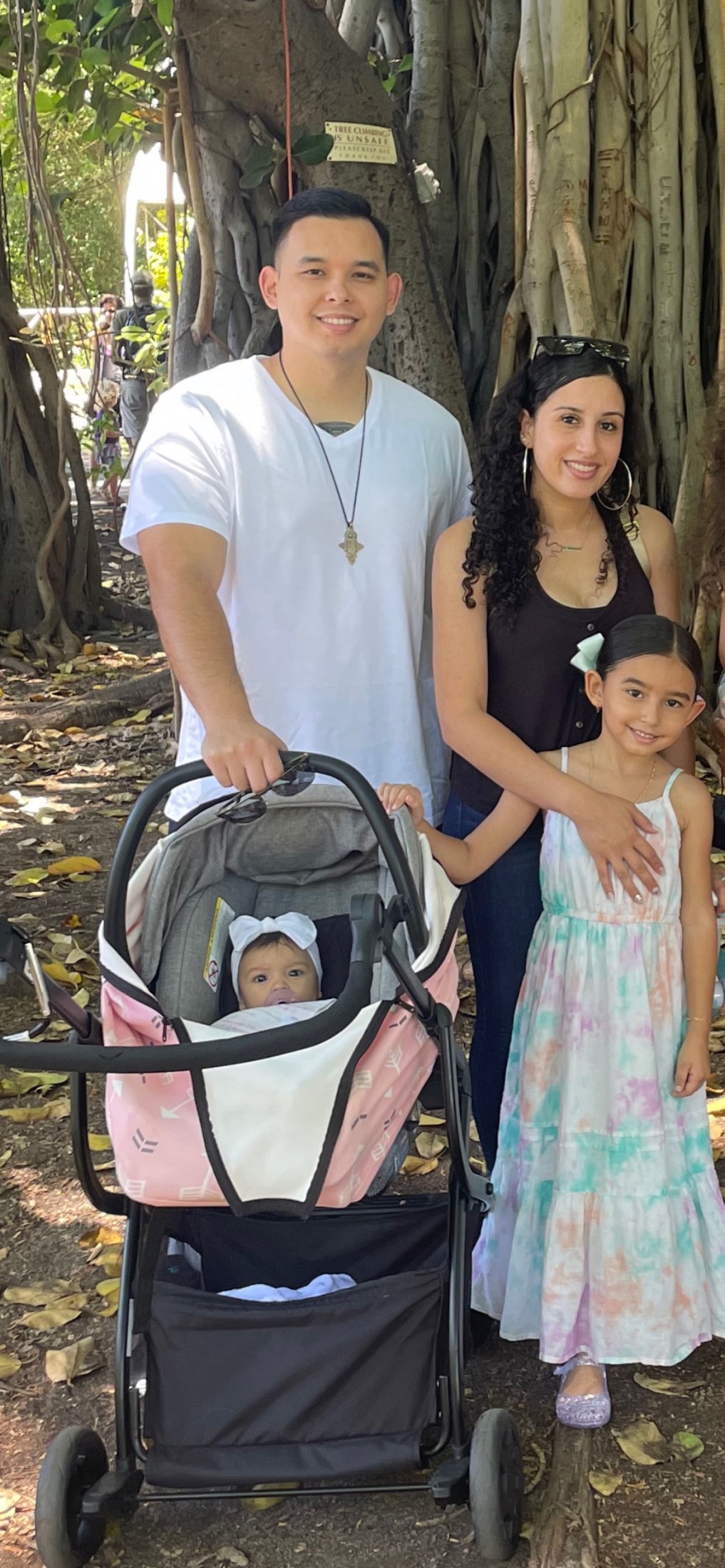 Question 1 – Please tell us about yourself. Where did you grow up? Have you ever lived on the mainland or overseas? Where did you go to school? What is your present occupation?
My name is Dylan Barbadillo. Im 26 y/o, and Im your average local boy, born and raised in the city of Wahiawa, on the beautiful island of Oahu! Growing up I attended Kipapa elementary school, both mililani and wahiawa middle school, and both mililani and Leilehua high school where I eventually graduated. I went into the work force immediately after high school and worked a variety of jobs from sales, to being an apprentice welder for a local shipyard. I am currently working for Hawaii Pacific health on the security and safety team! I have a passion for boxing, and most of all studying scripture and telling people about the glorious gospel of the kingdom of Lord Jesus Christ.
Question 2 – Tell us about your church/religious upbringing. Did you grow up in a religious family? What religion was your family? How did you come to faith in Jesus Christ?
I grew up in the Evangelical church, In the Pentecostal movement. All my life , every Sunday we were in church as far back as I can remember, I don't remember a time when we were not in church. My Mother and Stepfather were, and continue to be zealous Christians, so much so they started their own church in 2001 and continues til this day in Wahiawa. They were shining examples to me and great role models, and did not take the name of Christ lightly. I however, went through the age of rebellion during my teenage years and early adult life, and eventually years down the line, after the party's were over, and the deep contemplations of what life was, and questioning the meaning of it started to arise in my mind, I decided to leave Christianity and go on my own search for the higher power. As a truth seeker, To make a long story short, after many different avenues and rabbit holes I decided to pick up the Bible and give this God of the Bible a try and to see for myself what this book is all about. I was Blown away. It started to intrigue me, and change me, and fill me with energy and excitement. I then offered my first heartfelt prayer to God and asked him to reveal himself to me if he was real, and he wanted me to follow him, and I would dedicate my entire life to serving him. Later that same night, unexpectedly and miraculously, I've experienced a vision, and such a powerful presence of Love and warmth, almost like I was being hugged by God. Words really can't describe, and for the sake of not writing an entire essay I won't go into detail. However I'll be glad to share with those who want to contact me personally and hear about this experience. After this I had a extreme hunger for the Word, and a hunger to serve God like never before. I went back to church (Protestant) and got baptized in the name of the Holy Trinity and been serving God ever since!
Question 3 – What was your religion/church affiliation before you became Orthodox? How did you first learn about Orthodoxy? What attracted you to Orthodoxy?
I was a Protestant, specifically Pentecostal Christian. Went to a Local, Small, Independent church. I first learned about Orthodoxy online. I was interested in learning about other Christian Traditions, and found a few videos about this mysterious "Eastern Orthodox" church. After watching a few Orthodox Church tour videos, I was instantly captivated by the beauty and started to do more research into the history and doctrines of the Church. After about a year of study, i was absolutely convinced, that Orthodoxy is the One Holy Catholic and Apostolic church and that my family and I needed to be a part of it. I then searched up "Orthodox Churches in Hawaii" , and found Sts. Constantine & Helen!
Question 4 – What is it like being an Orthodox Christian? Would you describe it as easy or hard? Has being Orthodox deepened your relationship with God? What advice would you give to anyone considering Orthodoxy?
In my experience, being an Orthodox Christian is experiencing the fullness of Christianity. Deep spiritual discipline, participation in the Holy Mysteries, the fellowship, the beauty, the Liturgy, the daily readings, the saints, I can go on and on. I feel like I've only scratched the surface on my journey, and I love it. I do feel that I'm constantly growing in the faith. I would not describe it as easy, I would describe it as extremely difficult. But I wouldn't have it any other way. Relying fully on Gods Grace to live out this walk day by day keeps one humble and honest. And through the Holy Mysteries we're energized by God and pulled closer and closer to his presence making this difficult journey worth every second. I would say to the inquirer to take things slow. Really slow. Learn the Dogmas and doctrines. Attend the Divine Liturgy and really get an understanding of what the Church is. With these understood, you will fully appreciate the beauty and depth of the Church!