Welcome to the Ss. Constantine & Helen Greek Orthodox Cathedral of the Pacific Website


Services Schedule
Sundays: Orthros (Matins):8:15 AM | Divine Liturgy: 9:30 AM (Fellowship follows in our Social Hall)
"Welcome one another, therefore, just as Christ has welcomed you, for the glory of God." - Romans 15:7
Through this web site, we are pleased to be able to introduce you to that same worship and fellowship as it is expressed in the life of our Parish. If you are a new member of our parish, or are considering membership, these web pages will acquaint you with what our parish offers to those who give it support and sustenance; to those who already belong to the church, we hope they will provide you with the assurance that your sacrificial offerings are received with profound respect, and are utilized to maximum effectiveness. They will, in any case, enable you to make the informed decisions that are necessary for a meaningful relationship with your church.
---
St. Demetrios the Great Martyr
Service: Wednesday October 26, 2016
Orthros/Liturgy 8:30/9:30am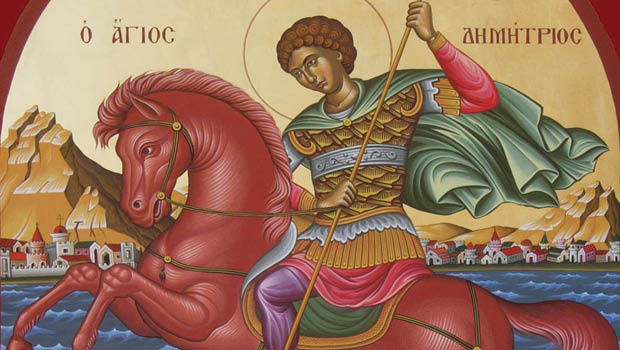 "A new commandment I give to you, that you love one another; as I have loved you, that you also love one another. By this all will know that you are my disciples, if you have love for one another." ~John 13:34-35~
Dearest Spiritual Ohana,
His Eminence Archbishop Demetrios of America addressed all the delegates and participants, back in 2004, at the Clergy-Laity Congress, held in New York City, concerning how we should be as Parish Communities throughout our country and the entire world, namely, "Communities of Love." In a portion of his speech, he states clearly and effectively tells us what this entails. He says it so well that I felt compelled and moved to share his message with all of you. Below is an excerpt of what he said.
~Beginning of Archbishop Demetrios' Address~ Communities of Love
It is clear that faith is essential to the identity and existence of the parish. We must also understand that faith is inseparably linked to love. Where there is faith, there is love, because faith is our response to the love that God has shown to us.
In his first Epistle, the great Apostle and Evangelist John writes, "So we know and believe the love God has for us. God is love, and he who abides in love abides in God, and God abides in him" (I John 4:16). First and foremost, this affirms that we know God because of His love for us. He created us in love, and He has provided for our salvation through His love.
Our faith, then, is a response to the love of God. We know this love through Christ, His teachings, death, and resurrection. We believe in Him as the Son of God who came into this world to offer us eternal life. And it is the grace of God through this faith that brings us salvation. As we respond to the love of God through faith, His love is within us.
As a God of love, He abides with us, and the evidence of His presence is His love. We know and experience this love through a life of personal communion with Him. But His love is also shared through us in our relationships with others. As God loves, we love. As He lovingly created all human beings in His image and likeness, we look upon everyone with His love.
With a God of love in our midst and His love filling our hearts, we come together as His children in communities of love. In parishes that are filled with the love of God, we worship and minister in love. As communities of love we face challenges and difficulties in love. We disagree in love; we find solutions in love. We move forward with the work of God and His kingdom in love. Our conversations, our actions, our work, our activities, all that we do in our parishes is characterized by a love that is "patient, kind, not envious, or boastful, or (Continued on page 2) 2 arrogant, or rude. It does not insist on its own way; it is not irritable or resentful; it does not rejoice in wrong doing, but rejoices in the truth. It bears all things, believes all things, hopes all things, endures all things" (I Corinthians 13:4-7). ~End of Archbishop's Address~
Everything we do as a parish should be motivated by love, in imitation of our Lord's Love for us. Our love is simply a response to all He has already done for us. All of our successes as a parish and cathedral, we can say, are based on how effectively we share God's Love with one another. All of our failings and shortcomings are symptoms that we have not loved God and one another in the way we were commanded to.
The same holds true for the world we live in. In light of the sad and tragic events taking place in the world, it is love that is needed all around and all over. I recently watched a "viral" video posted on Facebook by someone named Alex Bryant, in response to the recent violence taking place between police officers and angry protesters in Dallas surrounding unwarranted shootings. He held "hand-written signs, without saying a word, only music in the background, which read: "Who am I? Who are we? Whose side am I on?...The Police or the People? Black or White? Do we have to pick a side? Both sides have made mistakes. Both sides share the blame. But the fact remains...We are all Americans. We are all God's children. We have each other. Now is our time! Our lives are connected. Who are we? Who are we becoming? There are definitely TWO SIDES. The truth is...It's Dark vs. Light, not Black vs. White. The Dark Side: Fear leads to Anger, leads to Hate, leads to Suffering. It doesn't have to be this way! In the Light, Love leads to Forgiveness, leads to Unity, leads to Peace. In the Light All things are possible! Let's start again for us!"
I ask God to forgive me of my many shortcomings and failings to love all of you effectively as your priest and "so called pastor/ shepherd." I ask, that as I pray for all of you, that you also pray for me so that God extend His Mercy to me, by this I mean His "soothing healing" (eleoV) and His "steadfast love" (Hesed), so that I may be a vehicle and instrument to spread this to you, through my unworthy person.
With Love in Christ,
+Fr. Alexander
---
Philoptochos Fundraiser - Breast Cancer Research
Dear Ladies of Philoptochos & Supporters,
On "Make a Difference Day" Aloha Chapter of Philoptochos "made a difference" in our community by participating in the Making Strides Against Breast Cancer fundraising walk. I'm sure many of you know someone who has, or is struggling with breast cancer, so let us have a show of force, care and support for our loved ones and friends! Even if you couldn't join us, you can make a pledge of monetary support by signing up on Making Strides Against Breast Cancer Hawaii under Philoptochos Society - Aloha Chapter. We want to raise $1,000 for this cause.
You may also purchase the Philoptochos T-shirt pictured above. T-shirts can be ordered from Fran Rizzo for $8.
Aloha,
President of Philoptochos
Click here to donate or join our team
---
Philoptochos Holiday Baking Form
Planning a Holiday party and too busy to cook?
Why not order delicious Greek food & pastries!
Supplies are limited so click on the form below and order today!
---
Parish Christmas Card
If you would like to be included in the Parish Christmas card, please submit the attached form and return it to the office no later than December 5, 2016.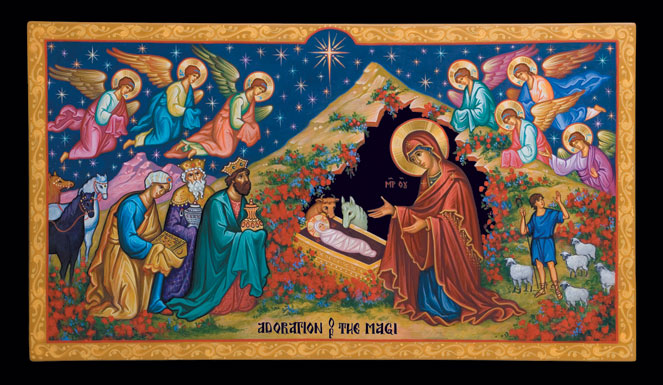 ---
Extra Extra Read All About it…
Click on the following graphic to access monthly & weekly bulletins & calendars.
To receive your bulletin electronically, simply send an e-mail to the Church Office, at: office@greekorthodoxhawaii.org with "Bulletin Electronic Subscription" in the subject line.
Note: A limited number of bulletins will also be available in the narthex for our visitors and parishioners who want a printed copy. Due to postage increases Shorelines will no longer be mailed.
---
Stewardship: We Are Family
Stewardship is our response to God's grace and it moves us from grace to gratitude. Just as we love because God first loved us from 1 John 4:14, we give because God first gave to us.
Click here to go to the stewardship page
---
How to Schedule a Memorial Service
If you are interested in scheduling a Memorial Service for a loved one, please contact Father Alexander at the office so that he can schedule a date on the calendar.
---
50th Year Anniversary Video
---
Youth Ministry Guidelines Qualifying for Travel Funding
Please review the attached document to find out about the guidelines for children to qualify for funding from the parish to attend youth events.
If you have any questions please see Father Alexander or a member of the Parish Council.
---
Orthodox Study Center: Orthodoxy 101
Click here to jump Orthodoxy 101
---
Wedding in Hawaii?
Orthodox couples from around the world have chosen to be married at Saints Constantine & Helen, the 'Cathedral in Paradise.' It's easier than you think!
Begin your wedding plans by contacting our Priest early.
Voice: (808) 521-7220
Email: (Click Here) Rev. Fr. Alexander Leong, Dean
(Or Copy) fralexanderleong@yahoo.com
---
Services Schedule
Sundays: Orthros (Matins):8:15 AM | Divine Liturgy: 9:30 AM (Fellowship follows in our Social Hall)
FeastDays: Divine Liturgy: 9:00 AM (as announced on Calendar)
For information please contact the Church office at (808) 521-7220 between the hours of 9:00 AM - 5:00 PM, Monday through Friday.
Becoming Orthodox
The life of the Orthodox Church perpetuates and fulfills the ministry of Jesus Christ. The close association between Christ and His Church is reflected in the images from the Scriptures which declare that Christ is the Head and the Church is His Body, and that Christ is the Bridegroom and the Church is His bride. Learn more»