Welcome to the Ss. Constantine & Helen Greek Orthodox Cathedral of the Pacific Website


Services Schedule
Sundays: Orthros (Matins):8:15 AM | Divine Liturgy: 9:30 AM (Fellowship follows in our Social Hall)
"Welcome one another, therefore, just as Christ has welcomed you, for the glory of God." - Romans 15:7
Through this web site, we are pleased to be able to introduce you to that same worship and fellowship as it is expressed in the life of our Parish. If you are a new member of our parish, or are considering membership, these web pages will acquaint you with what our parish offers to those who give it support and sustenance; to those who already belong to the church, we hope they will provide you with the assurance that your sacrificial offerings are received with profound respect, and are utilized to maximum effectiveness. They will, in any case, enable you to make the informed decisions that are necessary for a meaningful relationship with your church.
---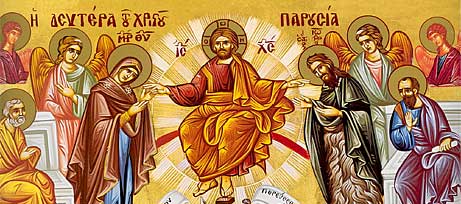 Dearest Spiritual Ohana,
"O Giver of life, open the doors of repentance to me, for my spirit goes to Your holy temple early, bearing a wholly defiled temple of the body. But, as compassionate, cleanse it by the loving kindness of Your mercy."
~Hymn from Sunday Orthros during Period of the Triodion
As we enter and journey thru the month of February, we make preparations for and enter into Great Lent. The liturgical book of the "Triodion" is opened as of February 5th, and Great Lent begins with Clean Monday on February 27th. This is a time to rejoice, because this is an opportunity for us to unlock and experience in our personal lives a spiritual joy that cannot be surpassed by any earthly sense of happiness.
We have a tendency to think that Great Lent is about giving up things over all the blessings and benefits it brings. I like to think of this special period of Great Lent as a "Spring Cleaning" of our personal and spiritual lives. It is true that we are called to abstain from meat, dairy products and deny ourselves many of the unnecessary activities. However, the rewards and benefits of fasting and self-denial outweigh all the struggles we go through in that we gain much more than the energy we put forth, if we endeavor to undertake this period of the year whole-heatedly.
We must see the true purpose of Great Lent for what it is, which is "to bring every human person into the Love of God," and for us to be "healed of our brokenness and woundedness." Our Lord wants to make us whole and desires that we be healed of our physical but more importantly our spiritual illnesses.
We are called to reach our true and full potential as humans by becoming like God, as is humanly possible. Christ, in taking on our human nature, is the prototype and model for us, in His own human nature. Our goal as human beings is to strive, throughout our lives, to become Christ-like. This is what we mean by the term "Theosis" in our Orthodox Faith. And this process is ongoing up until our very last breath.
Let us reflect on some of the benefits of fasting. When we fast, our bodies feel lighter. This alleviates the "bogged-down" weightiness of our bodies and allows us to pray more attentively. In praying, our goal is to connect with God and experience an unsurpassing peace in partaking of His greatness, His abundance of love and His mercy. No earthly possession or pursuit can possible grant us the inner joy that we people long for, so deep within our beings, which only God can fulfill in us. In our human nature, being made in God's Image and Likeness, there is this deep longing for fulfillment which can only be satisfied with God's Presence. So fasting is ultimately a tool which allows us to long and hunger for God.
This Holy Period calls us to put our faith into action. The themes of the four Sundays leading us up to Great Lent, call us to action and prepare us to have the appropriate disposition in our lives. Allow me to list the themes of the four Sundays preceding Great Lent. We have the following four Sundays: Sunday of the Publican and the Pharisee, Sunday of the Prodigal Son, Judgment Sunday (Meat-fare), and Sunday of Forgiveness (Cheese-fare). The Sunday of the Publican and the Pharisee moves us to be humble before God and our fellow people around us and not to compare ourselves to one another but compare ourselves only to God. The Sunday of the Prodigal Son calls us to reflect on the immense Love and Mercy of our Heavenly Father and repenting wherever we "missed the mark." Judgment Sunday helps us to reflect on our accountability before God, in questioning within ourselves our mercy toward others while at the same time seeing image of God in each and every person we encounter. Forgiveness Sunday focuses on letting go of the debts and trespasses we have against one another, fasting with joy and not showing off our virtues and how we abstain, and focusing on eternal heavenly treasures rather than the material possessions that we acquire or have acquired.
As we embark on the spiritual journey to and through Great Lent, let us be encouraged by the Apostle Peter when he says, "take up the whole armor of God." Let us fast to the best of our ability, increase our prayer at home and attend as many Lenten services as we are able. Let us recommit and commend ourselves to Christ in showing our love for one another in a practical and tangible manner, as this whole season is meant to move us to do so.
Let us make the most of this season, so that by God' Grace, we may come to the celebration of our Lord's Saving Passion, Death and Resurrection truly transformed and renewed spiritually!
With Love in Christ,
+Fr. Alexander
---
Weekday Services in February
Presentation of Our Lord
Thursday February 2, 2017
Orthros/Liturgy 8:30/9:30am
St Haralambos
Friday February 10, 2017
Orthros/Liturgy 8:30/9:30am
1st Saturday of the Souls
Saturday February 18, 2017
Orthros/Liturgy 8:30/9:30am
Maui Service (2nd Saturday of the Souls)
Saturday February 25, 2017
Liturgy/Memorials 10am
---
Epiphany 2017
---
Diakonia - Giving Back to the Community
These are Diakonia pictures of the 2 Dance Groups Nisiotes the Islanders and Nisiopeda Little Island Children.
The Nisiopeda joined the adult choir from Saints Constantine Cathedral Greek Orthodox of the Pacific to sing and dance at The Plaza, a Senior Living Residence next door to the church.
The Nisiotes asked friends to come and help them clean up Oneula Beach in Ewa Beach, Hawaii.
---
Philoptochos Rummage Sale Fundraiser
Mahalo for your support on a very successful fundraising event!
---
Extra Extra Read All About it…
Click on the following graphic to access monthly & weekly bulletins & calendars.
To receive your bulletin electronically, simply send an e-mail to the Church Office, at: office@greekorthodoxhawaii.org with "Bulletin Electronic Subscription" in the subject line.
Note: A limited number of bulletins will also be available in the narthex for our visitors and parishioners who want a printed copy. Due to postage increases Shorelines will no longer be mailed.
---
Stewardship: We Are Family
Stewardship is our response to God's grace and it moves us from grace to gratitude. Just as we love because God first loved us from 1 John 4:14, we give because God first gave to us.
Click here to go to the stewardship page
---
How to Schedule a Memorial Service
If you are interested in scheduling a Memorial Service for a loved one, please contact Father Alexander at the office so that he can schedule a date on the calendar.
---
Youth Ministry Guidelines
Please review the attached document to find out about the guidelines for children to qualify for funding from the parish to attend youth events.
If you have any questions please see Father Alexander or a member of the Parish Council.
---
Orthodox Study Center: Orthodoxy 101
Click here to jump Orthodoxy 101
---
Wedding in Hawaii?
Orthodox couples from around the world have chosen to be married at Saints Constantine & Helen, the 'Cathedral in Paradise.' It's easier than you think!
Begin your wedding plans by contacting our Priest early.
Voice: (808) 521-7220
Email: (Click Here) Rev. Fr. Alexander Leong, Dean
(Or Copy) fralexanderleong@yahoo.com
---
The Sacraments
One of the best-known prayers of the Orthodox Church speaks of the spirit of God being "present in all places and filling all things." This profound affirmation is basic to Orthodoxy's understanding of God and His relationship to the world. Learn more»