Welcome to the Ss. Constantine & Helen Greek Orthodox Cathedral of the Pacific Website


Services Schedule
Sundays: Orthros (Matins):8:15 AM | Divine Liturgy: 9:30 AM (Fellowship follows in our Social Hall)
"Welcome one another, therefore, just as Christ has welcomed you, for the glory of God." - Romans 15:7
Through this web site, we are pleased to be able to introduce you to that same worship and fellowship as it is expressed in the life of our Parish. If you are a new member of our parish, or are considering membership, these web pages will acquaint you with what our parish offers. To those who give it support and sustenance; to those who already belong to the church, we hope they will provide you with the assurance that your sacrificial offerings are received with profound respect, and are utilized to maximum effectiveness. They will, in any case, enable you to make the informed decisions that are necessary for a meaningful relationship with your church.
---
Christ is risen! Truly He is risen!
Dearest Spiritual Ohana,
Christ is risen! Truly He is risen!
The Feasts of all feasts is upon us– Holy Pascha, celebrated on April 8th, this year! It is a celebration so central to our faith as Orthodox Christians. It is about our salvation in Christ, the fulfillment of our deepest longings, and our ultimate purpose in life! For our life in Him is our path towards everything we could ever truly long for! He is the Source of our fulfillment and true joy. He offers us something eternal, and not fleeting nor temporal. He offers us "true life." In His Resurrection, He defeats humankind's worst enemy, death! The question remains in our daily quests and life-long challenges, do we actually seek Him and allow Him to enter our hearts and be a living Presence in our lives? He offers us His Immeasurable Love and Mercy and Glory, but it is up to each and every one of us to respond to Him, personally! Do we, and how?
Great Lent afforded us the opportunity to open up and offer our lives to the Lord through fasting, increased prayer, repentance, etc., with the goal of living a Christ-centered life. If we merely went through the motions of fasting and prayer without embodying what these were meant to bring us, we have totally missed the point of the Great Lenten Season. We were meant to steer our lives in the direction towards an intimate relationship with God.
The Holy Fathers offer us the best insights and "sign posts" to help move us in the right direction in regards to our appropriate responses to what the Lord has given, gives and will give us through His Holy and Glorious Resurrection.
St. John Chrysostom, in his homily to us on Pascha, helps us see and experience the Glory of the Resurrection. Here is a portion of his sermon:
O death, where is thy sting? O hades, where is thy victory?
Christ is risen, and you are overthrown! Christ is risen, and the demons are fallen!
Christ is risen, and the angels rejoice!
Christ is risen, and life reigns!
Christ is risen, and not one dead remains in a tomb!
For Christ, being raised from the dead, has become the First-fruits of them that slept.
To him be glory and might unto ages of ages. Amen.
St. John the Wonderworker of Shanghai and San Francisco, a contemporary Saint of our times who reposed in 1966, beautifully articulates the pathways and dynamics involved in building and strengthening our relationship with God. He says:
"Now the Church consists of both her earthly and heavenly parts, for the Son of God came to earth and became man that He might lead man into heaven and make him once again a citizen of Paradise, returning to him his original state of sinlessness and wholeness and uniting him unto Himself. This is accomplished by the action of Divine grace grated through the Church, but man's effort is also required. God saves His fallen creature by His own love for him, but man's love for his Creator is also necessary; without it he cannot be saved. Striving towards God and cleaving unto the Lord by its humble love, the human soul obtains power to cleanse itself from sin and to strengthen itself for the struggle to complete victory over sin."
I express and share deepest sentiments of utmost joy as we celebrate the Resurrection of our Lord. He loves us human beings so much that He would ultimately defeat death by His own Death and His Resurrection! Let us, therefore, give due glory to Him with all our hearts, minds, souls and beings as our continual response for all He has done, does and always will do for us.
I wish you all a Most Blessed and Joyous Pascha!
With Love in Christ,
+Fr. Alexander
---
Special Services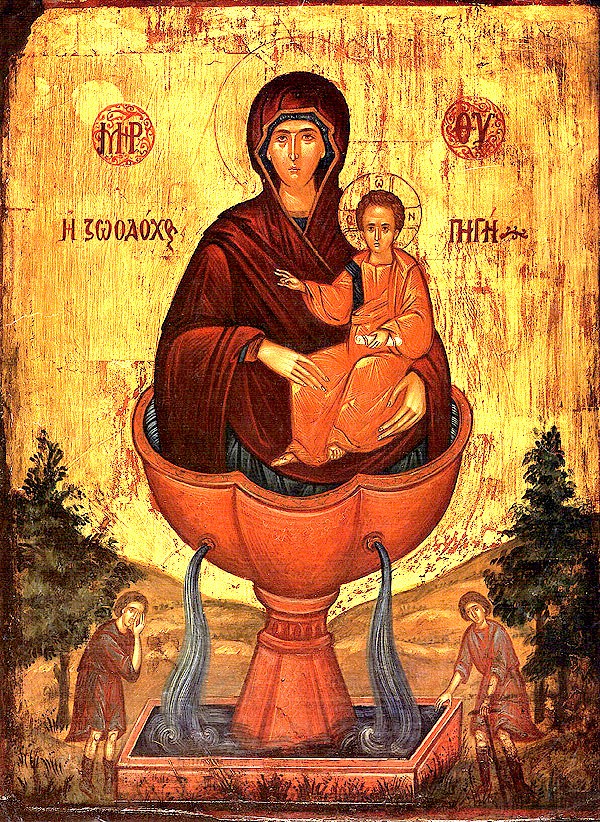 Life-Giving Fount of the Theotokos
Friday, April 13, 2018
Orthros 8:30 am/Liturgy 9:30 am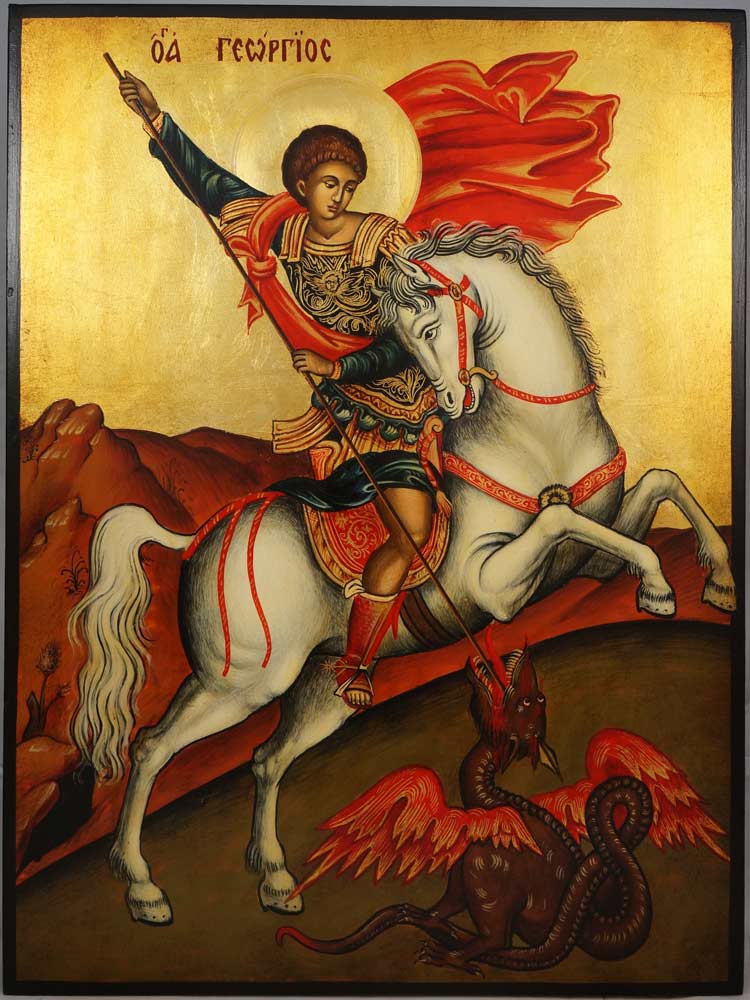 St. George the Great Martyr
Monday, April 23, 2018
Orthros 8:30 am/Liturgy 9:30 am
Maui Service
Saturday, April 28, 2018
Orthros 9:30 am/Liturgy 10:30 am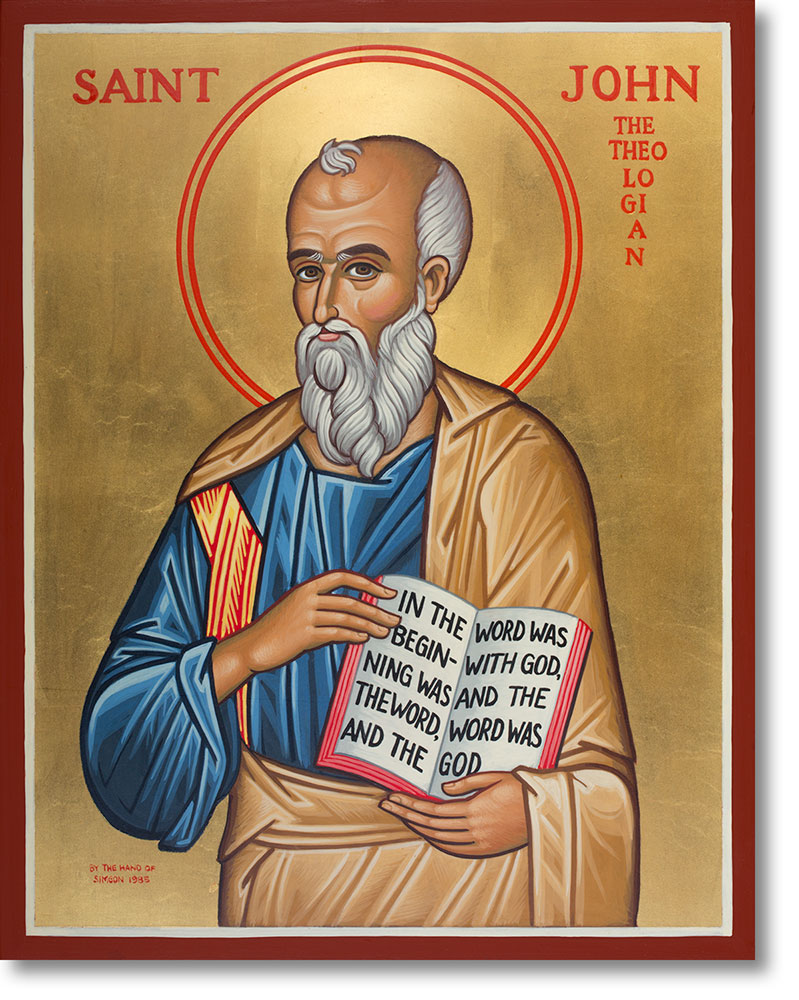 St. John the Apostle
Tuesday, May 8, 2018
Orthros 8:30 am/Liturgy 9:30 am
Holy Ascension
Thursday, May 17, 2018
Orthros 8:30 am/Liturgy 9:30 am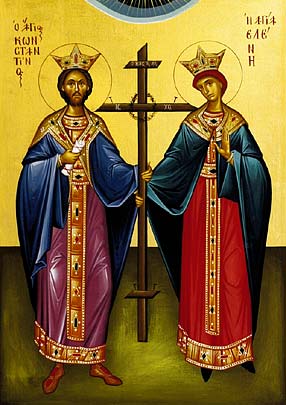 Ss. Constantine & Helen
Monday, May 21, 2018
Orthros 8:30 am/Liturgy 9:30 am
Maui Service
Saturday, May 26, 2018
Orthros 9:30 am/Liturgy 10:30 am
---
Pan-Orthodox Vesper - the Sunday of Orthodoxy
Fr. Athanasius & parishioners of the Holy Theotokos of Iveron Russian Orthodox Church along with the Myrrh-Steaming Iveron Icon were with us to worship on the Sunday of Othodoxy! How blessed we are!
Pictured below: Deacon MIchael Bressem, Fr. Alexander Leong & Retired Archpriest Anatole Lyovin.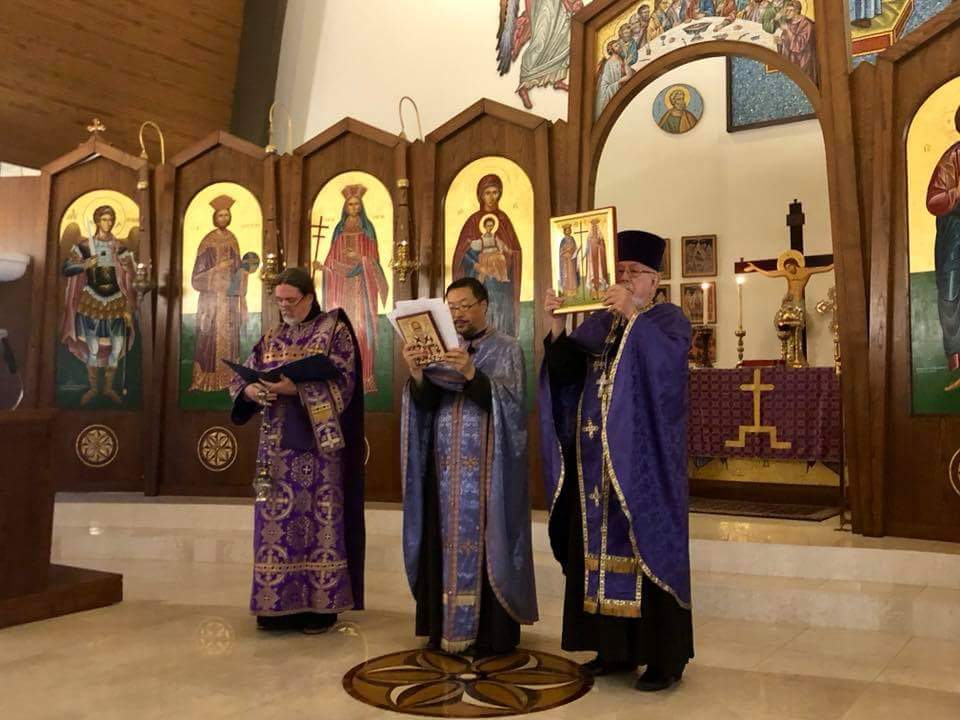 KITV Report on Miracle Icon of the Theotokos
Epiphany 2018 - Ala Moana Beach Park
---
Philoptochos Supports Go Red 2018
Did you know Heart Disease and Stroke cause 1 in 3 deaths among women each year? That is more than all cancers combined. It is our opportunity to make a difference and bring awareness since 80% of cardiac and stroke events may be prevented with education and action. We can do this and join with the National Philoptochos Society to support the American Heart Association's Go Red for Women awareness campaign.

Friday, February 2nd is National Wear Red Day, AHA's designated day to promote Go Red for Women. The National Philoptochos Society supported this program designated on Sunday, February 4th as Go Red Sunday!

To learn more about the statistics, research and program, please visit the site below:
---
Stewardship 2018

Click here to download the 2018 Stewardship form
Click here to volunteer to share your time & talents in 2018
---
Please Support Us Through AmazonSmile!
When you shop @AmazonSmile, Amazon will make a donation to Saints Constantine & Helen Greek Orthodox Church. https://smile.amazon.com/ch/99-6009445 Amazon donates 0.5% of the price of eligible smile.amazon.com purchase to the charities selected by customers
Please click this logo to go to the site.

---
2017 Making Stride - Philoptochos Fundraiser
As part of our outreach, our Philoptochos Society - Aloha Chapter Team is participating for Saturday's October 21, 2017 Hawaii's Making Strides Against Breast Cancer Walk!
Please join our team, walk in the Making Strides Against Breast Cancer event on Saturday October 21st, and help us make it a special, fun day. If you can't join us, consider making a donation and help our reach our fundraising goal.
Visit our team fundraising page, using the links below.
Please click here to donate to our team!
---
Mahalo for Your Support to the Greek Festival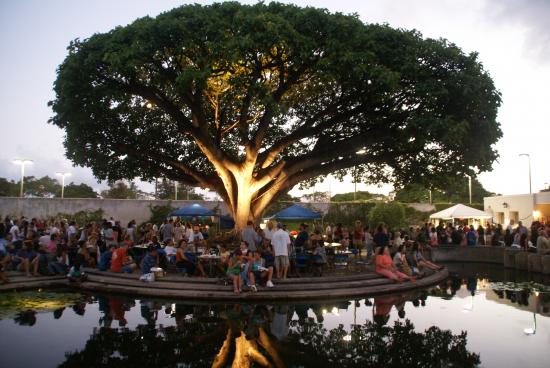 .
---
Be the Bee - Informational Videos About Orthodoxy
---
Hawaii Delegation to FDF
FDF 2017 - FRIDAY - SENIOR - Sts. Constantine and Helen - Nisiotes from Your FDF on Vimeo.
FDF 2017 - SATURDAY - SENIOR - Sts. Constantine and Helen - Nisiotes from Your FDF on Vimeo.
FDF 2017 - SATURDAY DIVISION IV - Sts. Constantine and Helen - Nisiopeda from Your FDF on Vimeo.
FDF 2017 - FRIDAY CHORAL DIVISION II - Sts. Constantine and Helen - Wahine Aloha from Your FDF on Vimeo.
---
Diakonia - Giving Back to the Community
These are Diakonia pictures of the 2 Dance Groups Nisiotes the Islanders and Nisiopeda Little Island Children.
The Nisiopeda joined the adult choir from Saints Constantine Cathedral Greek Orthodox of the Pacific to sing and dance at The Plaza, a Senior Living Residence next door to the church.
The Nisiotes asked friends to come and help them clean up Oneula Beach in Ewa Beach, Hawaii.
---
Philoptochos Rummage Sale Fundraiser
Mahalo for your support on a very successful fundraising event!
---
Extra Extra Read All About it…
Click on the following graphic to access monthly & weekly bulletins & calendars.
To receive your bulletin electronically, simply send an e-mail to the Church Office, at: office@greekorthodoxhawaii.org with "Bulletin Electronic Subscription" in the subject line.
Note: A limited number of bulletins will also be available in the narthex for our visitors and parishioners who want a printed copy. Due to postage increases Shorelines will no longer be mailed.
---
Stewardship: We Are Family
Stewardship is our response to God's grace and it moves us from grace to gratitude. Just as we love because God first loved us from 1 John 4:14, we give because God first gave to us.
Click here to go to the stewardship page
---
How to Schedule a Memorial Service
If you are interested in scheduling a Memorial Service for a loved one, please contact Father Alexander at the office so that he can schedule a date on the calendar.
---
Youth Ministry Guidelines
Please review the attached document to find out about the guidelines for children to qualify for funding from the parish to attend youth events.
If you have any questions please see Father Alexander or a member of the Parish Council.
---
Orthodox Study Center: Orthodoxy 101
Click here to jump Orthodoxy 101
---
Wedding in Hawaii?
Orthodox couples from around the world have chosen to be married at Saints Constantine & Helen, the 'Cathedral in Paradise.' It's easier than you think!
Begin your wedding plans by contacting our Priest early.
Voice: (808) 521-7220
Email: (Click Here) Rev. Fr. Alexander Leong, Dean
(Or Copy) fralexanderleong@yahoo.com
---
House of God
The visitor to an Orthodox Church is usually impressed by the unique features and the external differences between this place of worship and those of the various traditions of Western Christianity. Learn more»