Welcome to the Ss. Constantine & Helen Greek Orthodox Cathedral of the Pacific Website


Services Schedule
Sundays: Orthros (Matins):8:15 AM | Divine Liturgy: 9:30 AM (Fellowship follows in our Social Hall)
"Welcome one another, therefore, just as Christ has welcomed you, for the glory of God." - Romans 15:7
Through this web site, we are pleased to be able to introduce you to that same worship and fellowship as it is expressed in the life of our Parish. If you are a new member of our parish, or are considering membership, these web pages will acquaint you with what our parish offers to those who give it support and sustenance; to those who already belong to the church, we hope they will provide you with the assurance that your sacrificial offerings are received with profound respect, and are utilized to maximum effectiveness. They will, in any case, enable you to make the informed decisions that are necessary for a meaningful relationship with your church.
---
Nativity of Our Lord
Service: Sunday December 25, 2016
Orthros/Liturgy 8:30/9:30am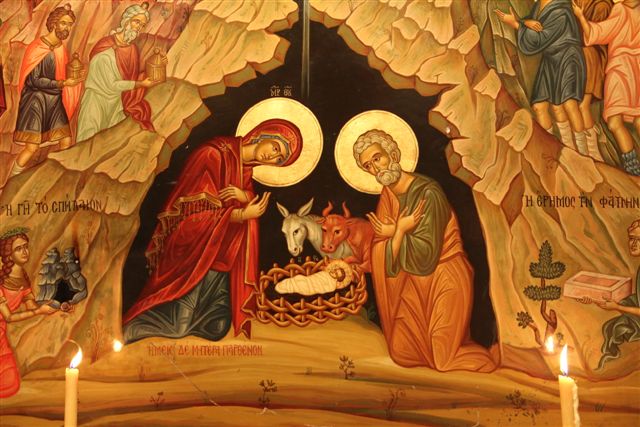 "Christ is born! Glorify Him!"
"How was He, who cannot be contained in any way, be contained in the womb? How can He, who is in the bosom of the Father, be held in the arms of the Mother? Certainly, this transpired just as He knew it, as He willed it, as He condescended. For being without flesh, He willingly became incarnate, and became Being itself, He became for us that which He was not, and was not inseparate from His nature. He shared in of what we were composed. Christ was born with dual natures wanting to fulfill the heavenly world." ~Hymn from the Kathismata of Nativity Orthros
Dearest Spiritual Ohana,
The Mystery and Glory of our Lord's Wondrous Birth and Incarnation is commemorated and celebrated in this month of December. In the days leading up to Christmas, we Orthodox Christians follow or rather should be following a 40-day Fast in anticipation of this Glorious Feast. Unlike the Great Lenten Fast which is penitential in character, the Fast leading us to the Nativity is anticipatory and much less strict in character. Outside of the typical Wednesday and Friday Fast, which is usually always strict with the exception of Feast of the Theotokos' Entry into the Temple, even if it falls on a Wednesday or Friday, all the other days of the week allow for fish and wine up to December 12th.
But why fast during this Advent Season, while it seems the rest of the world is partying? St. Gregory the Theologian gives us a most clear answer to this question: "This is what we are celebrating today: the Coming of God to man, that we might go forth, or rather that we might go back to God, that putting off the old man we might put on the new; and that we have died in Adam, so we might live in Christ. Therefore, let us keep the feast, not after the manner of a pagan festival, but in a godly way. And how shall this be? Let us not decorate our porches, nor attend dances, nor adorn the streets…these are the ways that lead to evil and are the entrances of sin. Let us leave all these things to the pagans. But let us, who are worshipers of the true God, if we must in some way have luxury, let us seek it in God's Word and the Law and the Scriptures."
St. Gregory is not telling us not to put up our Christmas trees and decorations and so forth. We should do these things, because in doing these things as Orthodox Christians we are remembering the Glory of His Holy Birth and should be! The problem comes when we focus on and overemphasize the secular aspects of the season, such as getting carried away with buying and giving gifts and overindulging at parties with food and drink and overspending without any correlation with or thought of the Birth of Christ. This is a major "disconnect" with what the Feast is all about! In fasting, we seek to see the Nativity for what it truly is, which is the ultimate expression of God's Immeasurable Love for us which is so far beyond what we humans can possibly grasp!
How could we not but glorify God for stooping so low, in His Love for humankind, by taking on our human flesh (Incarnation)? This love God has for us should never become old or "commonplace" in our lives. Focus on God's Glory and Love, always! As we go through life's journeys, let us never cease to forget God's Glory and His Boundless Love for us! I wish all of you True and Everlasting Joy, not fleeting happiness, in celebrating our Lord's Holy Birth.
With Love in Christ,
+Fr. Alexander
---
Special Services
St. Spyridon the Wonderworker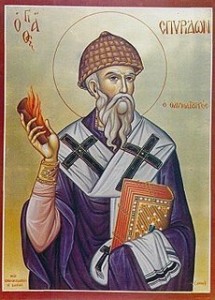 December 12, 2016
Orthros 8:30 am
Liturgy 9:30 am
St. Eleftherios the Priest Martyr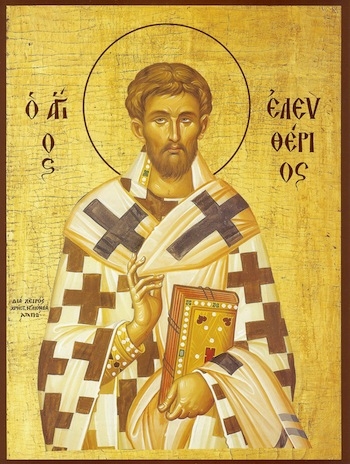 December 15, 2016
Orthros 8:30 am
Liturgy 9:30 am
St. Stephen the First Martyr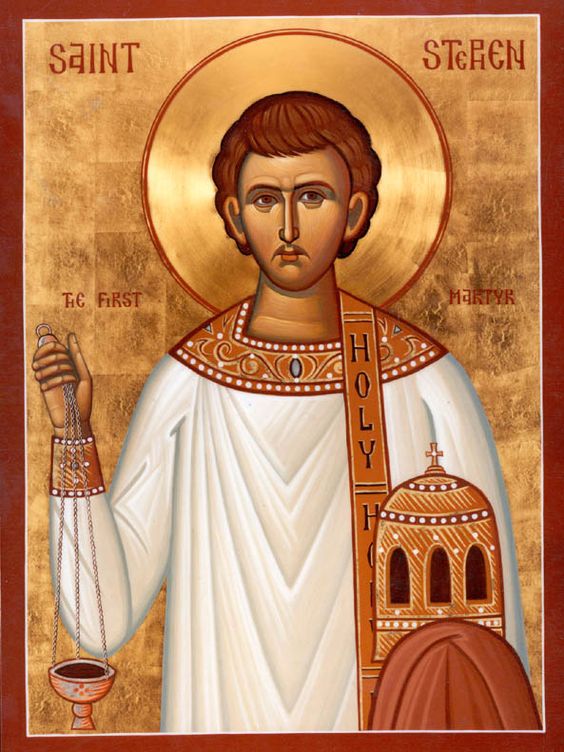 December 15, 2016
Orthros 8:30 am
Liturgy 9:30 am
---
Greek Dance Workshop
Featuring Bessie Grosso, Greek Dance Instructor from Chicago
Learn the Dances from Messini.
Date:Tuesday January 3, 2017
Time: 7 pm-9 pm
Cost: $10/hour
Location: Chirgotis Social Hall 930 Lunalilo Honolulu, Hi 96822
Here is a Biography on Vasiliki Robakis Kouchoukos (Bessie Grosso) who is doing our Greek Dance Workshop with her son Paul on Tues. Jan. 3, 2017. She learned these dances from Agis Tsakalatos and Anna Mavrou from Messinia.
"Born in Chicago Illinois. I have been teaching Greek dance for over 20 years in the Greek community in Chicago and Greece. Have performed in Greece ,Canada and the USA. Particapated in FDF Dance and Choral and HDF Competitions. Attended workshops in Greece, Canada and the USA. Currently a Physical Education teacher with a BS in Education,Physical Education and Dance. Masters in Leadership and English as a second language. Have 3 children who have grown up with greek dancing and singing. Parents are from Messini Greece, mom immigrant 1955 Lahanada near Finikounda and dad born in East Moline Illinois but grandparents immigrants 1910 from Chrysokelayra near Koroni, Messinia. Married to Anthony for 34 years. Performs each summer regularly in Greece with the local dance groups of her parents villages. Is a Youth director of the Pan Messinian Federation of North and South America of the Summer School University of Kalamata program. A member of St George Greek Orthodox and St Andrews Greek Orthodox Churches of Chicago."
Please see Dianna Graves or a Dance Group member for ticket information
---
Save the Date Ephiphany 2017
Date: January 8, 2017
Location: To Be Determined
Time: To Be Determine
Stay Tuned for More Information
---
There is Nothing Like a Glendi!!
What is a Glendi? A Hawaiian Glendi is an outreach and in-reach to the community. It is a social gathering of family and friends. This Glendi is a fundraiser for the dancers going to FDF. Along with food, drinks, and entertainment, we will have Greek dance lessons and practice them throughout the night. There will be door prizes and a 50/50 drawing.
Date:Saturday January 28, 2017
Time: 6 PM- 9:30 PM
Location Chirgotis Social Hall - 930 Lunalilo St, Honolulu, HI 96822
Please see Dianna Graves or a Dance Group member for ticket information
---
Diakonia - Giving Back to the Community
These are Diakonia pictures of the 2 Dance Groups Nisiotes the Islanders and Nisiopeda Little Island Children.
The Nisiopeda joined the adult choir from Saints Constantine Cathedral Greek Orthodox of the Pacific to sing and dance at The Plaza, a Senior Living Residence next door to the church.
The Nisiotes asked friends to come and help them clean up Oneula Beach in Ewa Beach, Hawaii.
---
Philoptochos Rummage Sale Fundraiser
Mahalo for your support on a very successful fundraising event!
---
Parish Christmas Card
If you would like to be included in the Parish Christmas card, please print the attached form and return it to the office no later than December 5, 2016.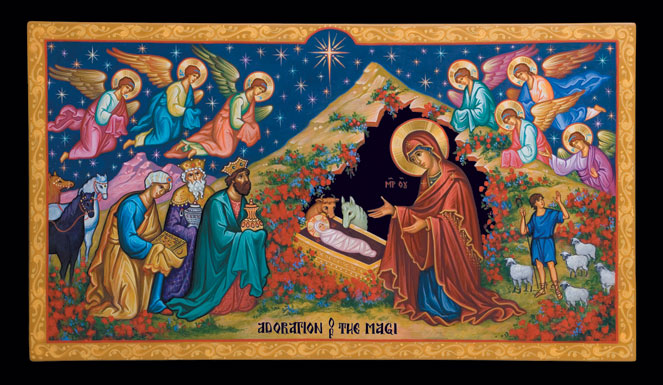 ---
Extra Extra Read All About it…
Click on the following graphic to access monthly & weekly bulletins & calendars.
To receive your bulletin electronically, simply send an e-mail to the Church Office, at: office@greekorthodoxhawaii.org with "Bulletin Electronic Subscription" in the subject line.
Note: A limited number of bulletins will also be available in the narthex for our visitors and parishioners who want a printed copy. Due to postage increases Shorelines will no longer be mailed.
---
Stewardship: We Are Family
Stewardship is our response to God's grace and it moves us from grace to gratitude. Just as we love because God first loved us from 1 John 4:14, we give because God first gave to us.
Click here to go to the stewardship page
---
How to Schedule a Memorial Service
If you are interested in scheduling a Memorial Service for a loved one, please contact Father Alexander at the office so that he can schedule a date on the calendar.
---
50th Year Anniversary Video
---
Youth Ministry Guidelines
Please review the attached document to find out about the guidelines for children to qualify for funding from the parish to attend youth events.
If you have any questions please see Father Alexander or a member of the Parish Council.
---
Orthodox Study Center: Orthodoxy 101
Click here to jump Orthodoxy 101
---
Wedding in Hawaii?
Orthodox couples from around the world have chosen to be married at Saints Constantine & Helen, the 'Cathedral in Paradise.' It's easier than you think!
Begin your wedding plans by contacting our Priest early.
Voice: (808) 521-7220
Email: (Click Here) Rev. Fr. Alexander Leong, Dean
(Or Copy) fralexanderleong@yahoo.com
---
Services Schedule
Sundays: Orthros (Matins):8:15 AM | Divine Liturgy: 9:30 AM (Fellowship follows in our Social Hall)
FeastDays: Divine Liturgy: 9:00 AM (as announced on Calendar)
For information please contact the Church office at (808) 521-7220 between the hours of 9:00 AM - 5:00 PM, Monday through Friday.
Becoming Orthodox
The life of the Orthodox Church perpetuates and fulfills the ministry of Jesus Christ. The close association between Christ and His Church is reflected in the images from the Scriptures which declare that Christ is the Head and the Church is His Body, and that Christ is the Bridegroom and the Church is His bride. Learn more»