Welcome to the Ss. Constantine & Helen Greek Orthodox Cathedral of the Pacific Website


Services Schedule
Sundays: Orthros (Matins):8:15 AM | Divine Liturgy: 9:30 AM (Fellowship follows in our Social Hall)
"Welcome one another, therefore, just as Christ has welcomed you, for the glory of God." - Romans 15:7
Through this web site, we are pleased to be able to introduce you to that same worship and fellowship as it is expressed in the life of our Parish. If you are a new member of our parish, or are considering membership, these web pages will acquaint you with what our parish offers. To those who give it support and sustenance; to those who already belong to the church, we hope they will provide you with the assurance that your sacrificial offerings are received with profound respect, and are utilized to maximum effectiveness. They will, in any case, enable you to make the informed decisions that are necessary for a meaningful relationship with your church.
---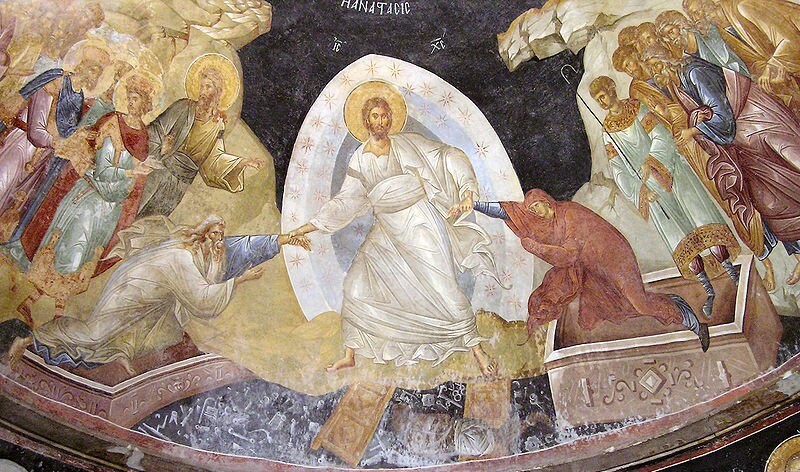 Dearest Spiritual Ohana,
As we enter into the month of April, we come to the conclusion of Great Lent, travel through the Most Blessed Holy Week and arrive at the Joyous Season of Pascha and the Holy Resurrection. I pray that you took the opportunity to immerse yourselves into Great Lent, with all of the ascetic practices of fasting, increased prayer, almsgiving, etc. And whether you did or did not engage in these practices, I wish you immense joy as we come to proclaim, "Christ is risen! Truly He is risen!"
The Feast of our Lord's Resurrection is central and most meaningful to our lives as Orthodox Christians. It is the ultimate expression of God's Love for us and all of Humanity! He grants us the remission (wiping out) of our sins through His Crucifixion, and vanquishes, defeats and conquers death by His own Death and Resurrection. This Feast is not merely a commemoration of something wonderful that took place in history many year ago. These loving actions of our Lord have eternal implications for all of humanity and are meant to touch each and every one of us, personally, in the here and the now!
As we come to the Most Joyous Celebration of Pascha and the Holy Resurrection, I leave you with the best sermon ever preached about this Season, by St. John Chrysostom (the Golden Mouth):
St. John Chrysostom: Paschal Homily
If anyone is devout and a lover of God, let him enjoy this beautiful and radiant festival.
If anyone is a wise servant, let him, rejoicing, enter into the joy of his Lord.
If anyone has wearied himself in fasting, let him now receive his recompense.
If anyone has labored from the first hour, let him today receive his just reward. If anyone has come at the third hour, with thanksgiving let him keep the feast. If anyone has arrived at the sixth hour, let him have no misgivings; for he shall suffer no loss. If anyone has delayed until the ninth hour, let him draw near without hesitation. If anyone has arrived even at the eleventh hour, let him not fear on account of his delay. For the Master is gracious and receives the last, even as the first; he gives rest to him that comes at the eleventh hour, just as to him who has labored from the first. He has mercy upon the last and cares for the first; to the one he gives, and to the other he is gracious. He both honors the work and praises the intention.
Enter all of you, therefore, into the joy of our Lord, and, whether first or last, receive your reward. O rich and poor, one with another, dance for joy! O you ascetics and you negligent, celebrate the day! You that have fasted and you that have disregarded the fast, rejoice today! The table is rich-laden; feast royally, all of you! The calf is fatted; let no one go forth hungry!
Let all partake of the feast of faith. Let all receive the riches of goodness.
Let no one lament his poverty, for the universal kingdom has been revealed.
Let no one mourn his transgressions, for pardon has dawned from the grave.
Let no one fear death, for the Saviour's death has set us free.
He that was taken by death has annihilated it! He descended into hades and took hades captive! He embittered it when it tasted his flesh! And anticipating this Isaiah exclaimed, "Hades was embittered when it encountered thee in the lower regions." It was embittered, for it was abolished! It was embittered, for it was mocked! It was embittered, for it was purged! It was embittered, for it was despoiled! It was embittered, for it was bound in chains!
It took a body and, face to face, met God! It took earth and encountered heaven! It took what it saw but crumbled before what it had not seen!
"O death, where is thy sting? O hades, where is thy victory?"
Christ is risen, and you are overthrown!
Christ is risen, and the demons are fallen!
Christ is risen, and the angels rejoice!
Christ is risen, and life reigns!
Christ is risen, and not one dead remains in a tomb!
For Christ, being raised from the dead, has become the First-fruits of them that slept.
To him be glory and might unto ages of ages. Amen.
Kalh Anastash kai Kalo Pasca!
(A Blessed Resurrection and Pascha to All!)
Christ is Risen! Truly He is Risen!
With Love in Christ,
+Fr. Alexander
---
Weekday Services in April & May
Life-Giving Fount of the Theotokos
Friday April 21, 2017
Orthros 8:30am Liturgy 9:30am
Maui Service
Saturday April 22, 2017
Liturgy 10:30am
St. John the Apostle
Monday May 8, 2017
Orthros 8:30am Liturgy 9:30am
Great Vespers
Saturday May 20, 2017
6:30pm
Great Vespers
Wednesday May 24, 2017
6:30pm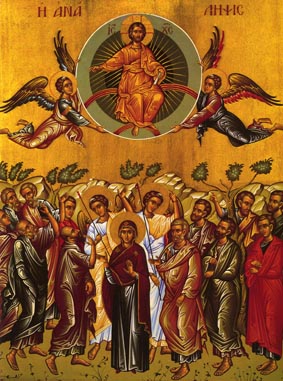 Holy Ascension
Thursday May 25, 2017
Orthros 8:30am Liturgy 9:30am
Maui Service
Saturday May 27, 2017
Liturgy 10:30am
---
Help Send Sharon & Angeliki to Ionian Village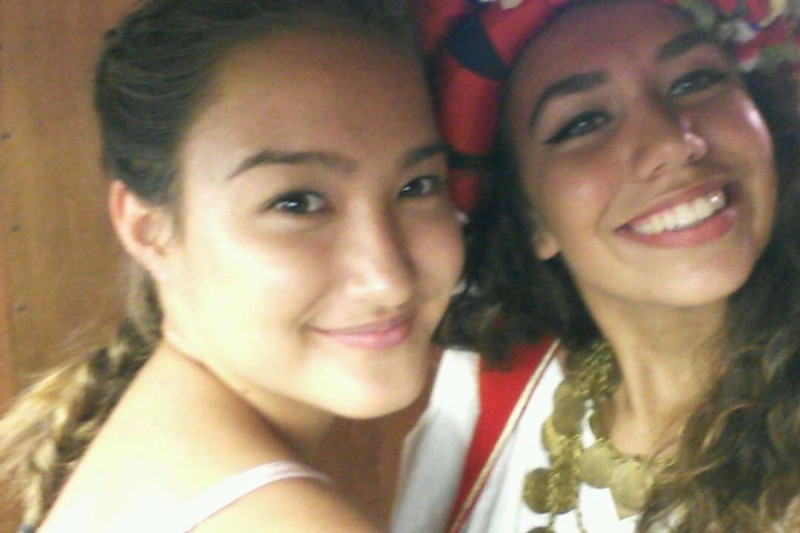 Sharon Higashi & Angeliki Scordilis, are high school seniors and active members of our church, Ss. Constantine & Helen Greek Orthdodox Cathedral of the Pacific.

They grew up together as best friends and were very excited last month, when they received the wonderful news that they were granted scholarships to attend Ionian Village, a 20-day spiritual and cultural based summer camp in Greece. They will join 200 youth from all around the country and be fully immersed in their culture and faith. Visiting archeological sites, learning the Greek language, and especially the opportunity to visit monasteries and venerate the saints in person are some incredible things they look forward to experiencing.

Though they are blessed beyond measure to have this incredible opportunity, there are numerous expenses that the scholarships do not fully cover. We still need to raise funds for their round-trip airfare from Honolulu to JFK, onto Athens, Greece, as well as I.V. camp fees. Hopefully, any extra funds could be used as spending money on the trip and donations to the different monasteries they visit.

These young women are fundraising personally and selling cookies, pretzel sticks, and marshmallow cereal bars (along with anything else they can think of), to make this once-in-a-lifetime trip happen.

As their moms, Anita and I are also trying to help them achieve their goals. We're creating this page to crowd-source and reach out to our family, friends, and anyone else able to donate to these amazing young women. We are grateful for the largest to the smallest donations and believe no donation is too small. Even $1 is greatly appreciated!

Here is a link to Ionian Village's website:
https://www.ionianvillage.org/home

Much mahalo, Efharisto, and God Bless.
---
Hawaii Delegation to FDF
---
Epiphany 2017
---
Diakonia - Giving Back to the Community
These are Diakonia pictures of the 2 Dance Groups Nisiotes the Islanders and Nisiopeda Little Island Children.
The Nisiopeda joined the adult choir from Saints Constantine Cathedral Greek Orthodox of the Pacific to sing and dance at The Plaza, a Senior Living Residence next door to the church.
The Nisiotes asked friends to come and help them clean up Oneula Beach in Ewa Beach, Hawaii.
---
Philoptochos Rummage Sale Fundraiser
Mahalo for your support on a very successful fundraising event!
---
Extra Extra Read All About it…
Click on the following graphic to access monthly & weekly bulletins & calendars.
To receive your bulletin electronically, simply send an e-mail to the Church Office, at: office@greekorthodoxhawaii.org with "Bulletin Electronic Subscription" in the subject line.
Note: A limited number of bulletins will also be available in the narthex for our visitors and parishioners who want a printed copy. Due to postage increases Shorelines will no longer be mailed.
---
Stewardship: We Are Family
Stewardship is our response to God's grace and it moves us from grace to gratitude. Just as we love because God first loved us from 1 John 4:14, we give because God first gave to us.
Click here to go to the stewardship page
---
How to Schedule a Memorial Service
If you are interested in scheduling a Memorial Service for a loved one, please contact Father Alexander at the office so that he can schedule a date on the calendar.
---
Youth Ministry Guidelines
Please review the attached document to find out about the guidelines for children to qualify for funding from the parish to attend youth events.
If you have any questions please see Father Alexander or a member of the Parish Council.
---
Orthodox Study Center: Orthodoxy 101
Click here to jump Orthodoxy 101
---
Wedding in Hawaii?
Orthodox couples from around the world have chosen to be married at Saints Constantine & Helen, the 'Cathedral in Paradise.' It's easier than you think!
Begin your wedding plans by contacting our Priest early.
Voice: (808) 521-7220
Email: (Click Here) Rev. Fr. Alexander Leong, Dean
(Or Copy) fralexanderleong@yahoo.com
---
Liturgy
"We knew not whether we were in heaven or on earth, for surely there is no such splendor or beauty anywhere on earth. We cannot describe it to you; we only know that God dwells there among men and that their Service surpasses the worship of all other places..." Learn more»