Welcome to the Ss. Constantine & Helen Greek Orthodox Cathedral of the Pacific Website


Sundays Services Schedule:
Orthros (Matins):8:15 AM
Divine Liturgy: 9:30 AM
Fellowship follows in our Social Hall
"Welcome one another, therefore, just as Christ has welcomed you, for the glory of God." - Romans 15:7
Through this web site, we are pleased to be able to introduce you to that same worship and fellowship as it is expressed in the life of our Parish. If you are a new member of our parish, or are considering membership, these web pages will acquaint you with what our parish offers. To those who give it support and sustenance; to those who already belong to the church, we hope they will provide you with the assurance that your sacrificial offerings are received with profound respect, and are utilized to maximum effectiveness. They will, in any case, enable you to make the informed decisions that are necessary for a meaningful relationship with your church.
---
Christ is born! Glorify Him!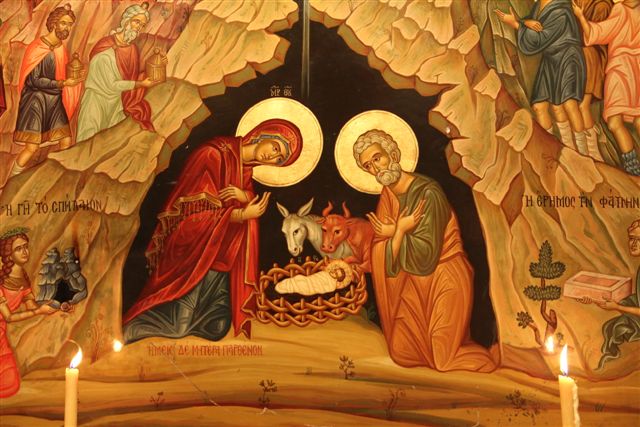 "And the Word became flesh!…in order to make us earthly beings into heavenly ones, in order to make sinners into saints; in order to raise us up from corruption into incorruption, from earth to heaven; from enslavement to sin and the devil – into the glorious freedom of children of God; from death – into immortality, in order to make us sons of God and to seat us together with Him upon the Throne as His royal children. O, boundless compassion of God! O, inexpressible wisdom of God! O, great wonder, astounding not only the human mind, but the angelic [mind] as well!"
~St. John of Kronstadt
Dearest Spiritual Ohana,
It is a season of great joy as we come to celebrate our Lord's Glorious Nativity! The joy comes from God's Immense, Immeasurable Love for us humans which is so completely generous and expresses what great lengths God has gone and goes for us. Consider and ponder this: that God loves us so much that He would condescend (humble Himself to such an extreme degree) to take on our human flesh. He Who created everything: the sun, the stars, the moon, the earth, the universe, every living creature, you and me included, etc., would stoop beyond the depths and to the lowest places to be born in the humblest of places, be taken care of by human parents, fed, learn to speak, to die in the flesh in order to conquer and free us from death. This is what a Loving God we have!
So let us exclaim with thanksgiving and gratitude, "Christ is born! Glorify Him!" And in exclaiming these words let us be determined to make these words a reality and give flesh to them with how we live our daily lives so that they reflect the Light of Christ to the rest of the world we live in which is often characterized by a lot of darkness, corruption and despair. In other words our actions we take are a response to God for what He has done for us through His Incarnation. This means for us to imitate Christ and acquire His mindset, which is what we mean, as Christians, to be "Christ-like."
To be Christ-like is to model Him, in every way possible, in His human nature which He assumed for us, in His Love, Compassion and Mercy for our human race. He is the "Mark" and "Standard" for how we are to be as human beings. We must strive to acquire His humanity and mindset, as much as is possible, in our free will as human beings. Christ, Himself, tells us how to do this when He says, "You know that the rulers of the Gentiles lord it over them, and those who are great exercise authority over them. Yet it shall not be so among you, let him be your servant. And whoever desires to be first among you, let him be your slave– just as the Son of Man did not come to be served, but to serve, and to give His life as a ransom for many." ~Matthew 20:25-28
Our commitment and growth in Christ, in acquiring His mindset, is a life-long effort, a "synergy" of cooperating with God and our fellow humans. It continues up to the last breath we take. And to get to know Christ is an eternal dynamic and process. But our ultimate goal, as Christians, is to as St. Paul says in his Letter to the Galatians (2:20), "I have been crucified with Christ; it is no longer I who live, but Christ lives in me; and the life which I now live in the flesh I live by faith in the Son of God, Who loved me and gave Himself for me."
I wish all of you greatest joy as we come to celebrate our Lord's Nativity and what it means for us. He deserves our full devotion and worship, and to Him we give all Glory: "Glory to God in the highest, and on earth peace good will among all people!"
CHRIST IS BORN! GLORIFY HIM!
With Love in Christ,
+Fr. Alexander
---
Special Services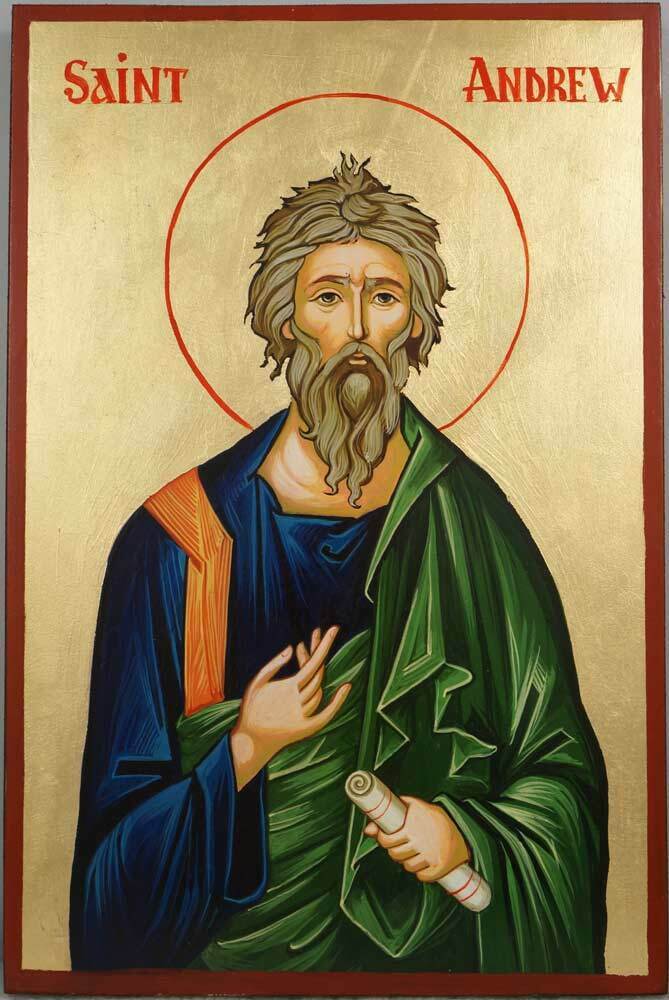 St. Andrew the Apostle
Saturday, November 30, 2019
Orthros 8:30 am/Liturgy 9:30 am
St. Barbara the Great Martyr
Wednesday, December 4, 2019
Orthros 8:30 am/Liturgy 9:30 am
St. Nicholas the Wonderworker
Friday, December 6, 2019
Orthros 8:30 am/Liturgy 9:30 am
Great Vespers
Saturday, December 7, 2019
Service 5:30 pm
St. Spyridon the Wonderworker
Thursday, December 12, 2019
Orthros 8:30 am/Liturgy 9:30 am
Great Vespers
Saturday, December 14, 2019
Service 5:30 pm
Eve of the Nativity
Tuesday, December 24, 2019
Liturgy of St. Basil 9:00 am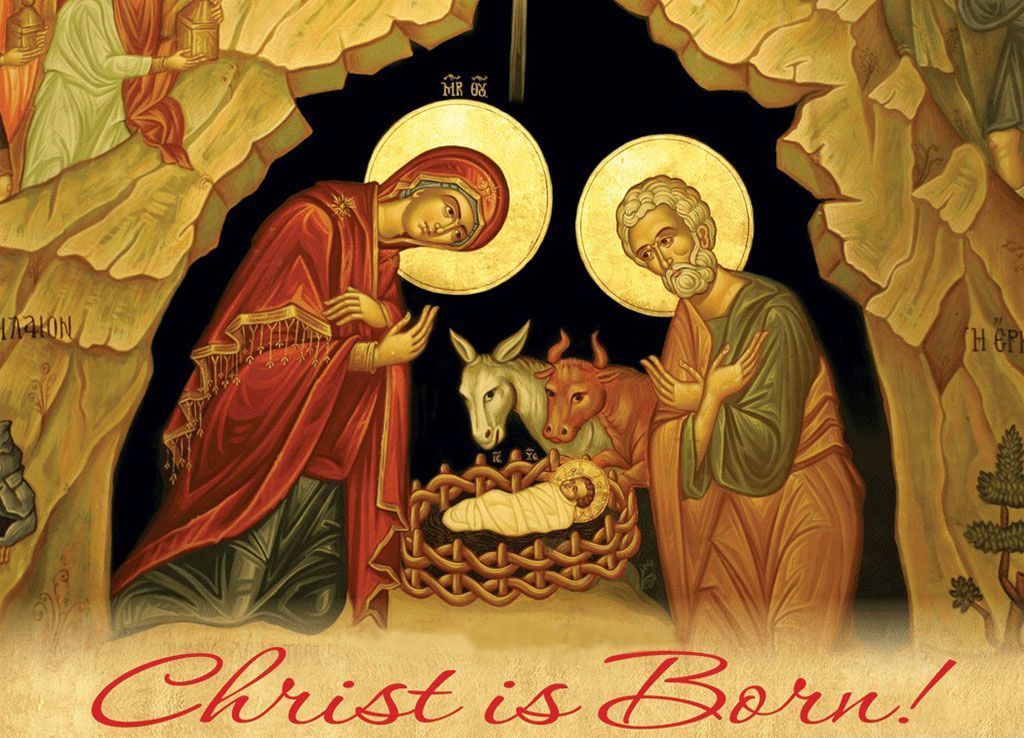 Nativity of our Lord
Wednesday, December 25, 2019
Orthros 8:20 am/Liturgy 9:30 am
St. Stephen the First Martyr
Friday, December 27, 2019
Orthros 8:30 am/Liturgy 9:30 am
Maui Service
Saturday, December 28, 2019
Orthros 9:30 am/Liturgy 10:30 am
Circumcision of St. Basil
Wednesday, January 1, 2020
Orthros 8:30 am/Liturgy 9:30 am
Holy Epiphany
Monday, January 6, 2020
Orthros 8:30 am/Liturgy 9:30 am
Great Vespers
Saturday, January 11, 2020
Service 5:30 pm
St. Anthony the Great
Friday, January 17, 2020
Orthros 8:30 am/Liturgy 9:30 am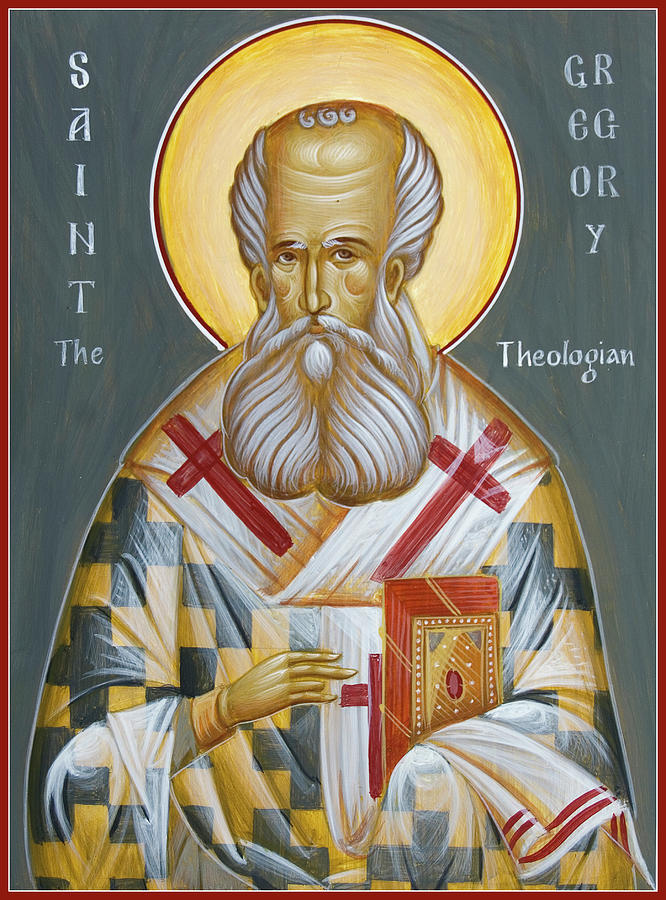 St. Gregory the Theologian
Saturday, January 25, 2020
Orthros 8:30 am/Liturgy 9:30 am
Three Holy Hierarchs
Thursday, January 30, 2020
Orthros 8:30 am/Liturgy 9:30 am
---
---
Philoptochos Holiday Food & Bake Sale!

Planning a Holiday party and too busy to cook?
Why not order delicious Greek food & pastries!
Supplies are limited so click on the form below and order today!
Order your holiday food & baked goods today!
Please see click here for our order form.
---
---
Greek Night Benefit - Aloha Choir
Mahalo for your support at the recent Greek Night Benefit.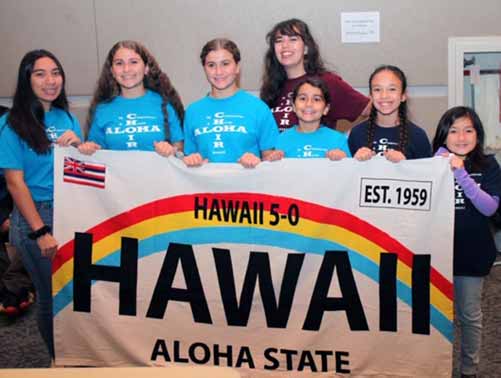 ---
His Eminence Archbishop Elpidophoros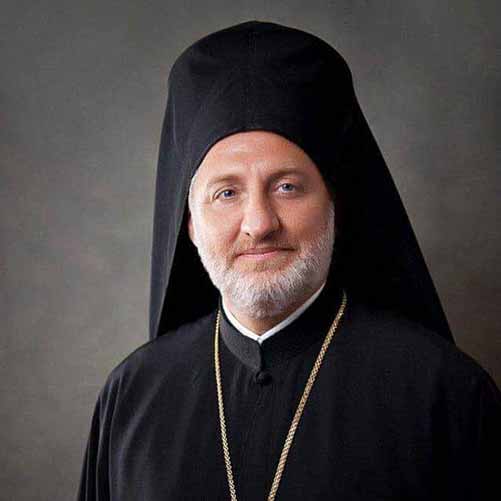 The Enthronement of His Eminence Archbishop Elpidophoros of America took place on Saturday June 22, 2019 at the Archdiocesan Cathedral of the Holy Trinity in New York. His Eminence Metropolitan Avgoustinos of Germany represented His All-Holiness Ecumenical Patriarch Bartholomew. Axios!
About the Enthronement (Click Here)
Why is an Archbishop Enthroned? (Click Here)
---
---
FDF 2019 Aloha Youth Choir
FDF 2019 - FRIDAY - Choral Competition Division I - Aloha Youth Choir - Sts. Constantine & Helen - Honolulu from Your FDF on Vimeo.
---
FDF 2019 Nisiopeda Dance Group
FDF 2019 - SATURDAY - Advanced Junior - Nisiopeda - Sts. Constantine & Helen - Honolulu from Your FDF on Vimeo.
---
Glendi Dance Group Benefit

Mahalo for your support and donations during the Glendi event!
---
Epiphany Celebrations at Ala Moana Park: Sunday, January 6, 2019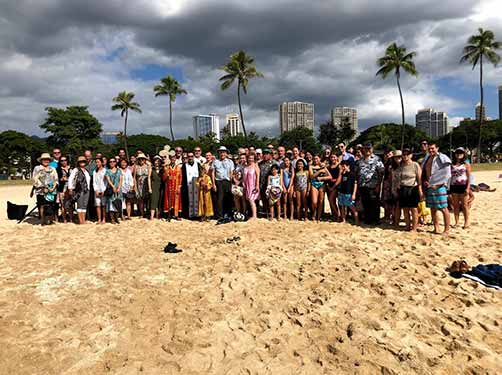 ---
Diakonia 2019
The Nisiopeda dance group from Sts. Constantine & Helen parish (Honolulu, Hawaii) completed a service project for our local Ronald McDonald House (RMH) in Honolulu. Our six all-female dance group, along with dance group families, Director, and Co-Directors, gathered on January 4, 2019 to bake cookies and brownies for local families staying at two Ronald McDonald houses in Honolulu, HI.
The Nisiopeda made baked goodies, wrote heart-felt notes, and packed them for ten families staying at RMH's in Honolulu. The RMH hosts families from other Hawaiian Islands, the Pacific, and Continental US whose child is receiving care and/or treatment from hospitals located on O'ahu.
More information from their website,
For over three decades, Ronald McDonald House Charities

®

of Hawaii has offered a loving

home-away-from-home

to families needing to be near their seriously ill or injured children while they're being treated at Honolulu area hospitals.
Additionally, the Nisiopeda hand-delivered the baked gifts to the RMH on January 5, 2019 where they were able to tour the house and get a first-hand sense of the blessings provided there. It was a special visit all around indeed! The dance group felt the love that created the home and look forward to future Diakonia opportunities at RMH Hawaii.
---
Nisiotes Dance Group Outreach
The Greek Kailua Dancers performed at Poahi Nani Care Center as an outreach to the community.
Barry's mom pictured is 101 yeas old.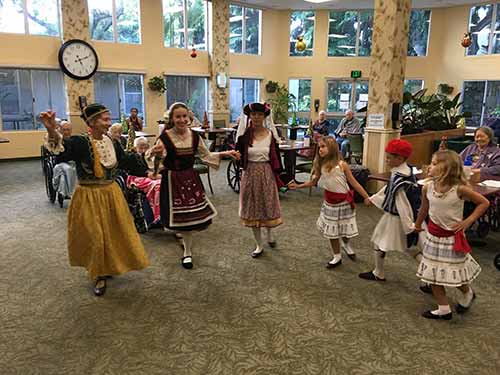 ---
Congratulations Nisiotes Dancers - College Graduation

Congratulations to recent graduates Christiana Oshiro and Constantine Papazacharioudakis!
---
2018 Making Stride - Philoptochos Fundraiser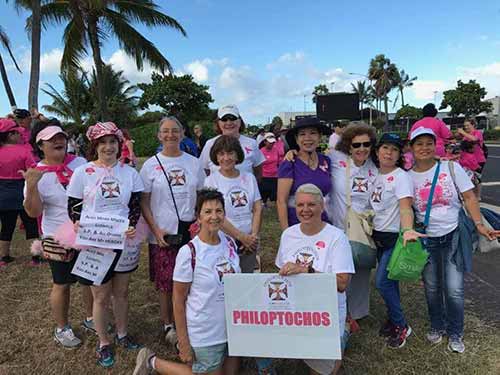 Mahalo for participating with our Philoptochos Society - Aloha Chapter Team Making Strides Against Breast Cancer Walk!
You can still participate by making a donation and help our reach our fundraising goal.
Visit our team fundraising page, using the links below.
Please click here to donate to our team!
---
Pan-Orthodox Vesper - the Sunday of Orthodoxy
Fr. Athanasius & parishioners of the Holy Theotokos of Iveron Russian Orthodox Church along with the Myrrh-Steaming Iveron Icon were with us to worship on the Sunday of Othodoxy! How blessed we are!
Pictured below: Deacon MIchael Bressem, Fr. Alexander Leong & Retired Archpriest Anatole Lyovin.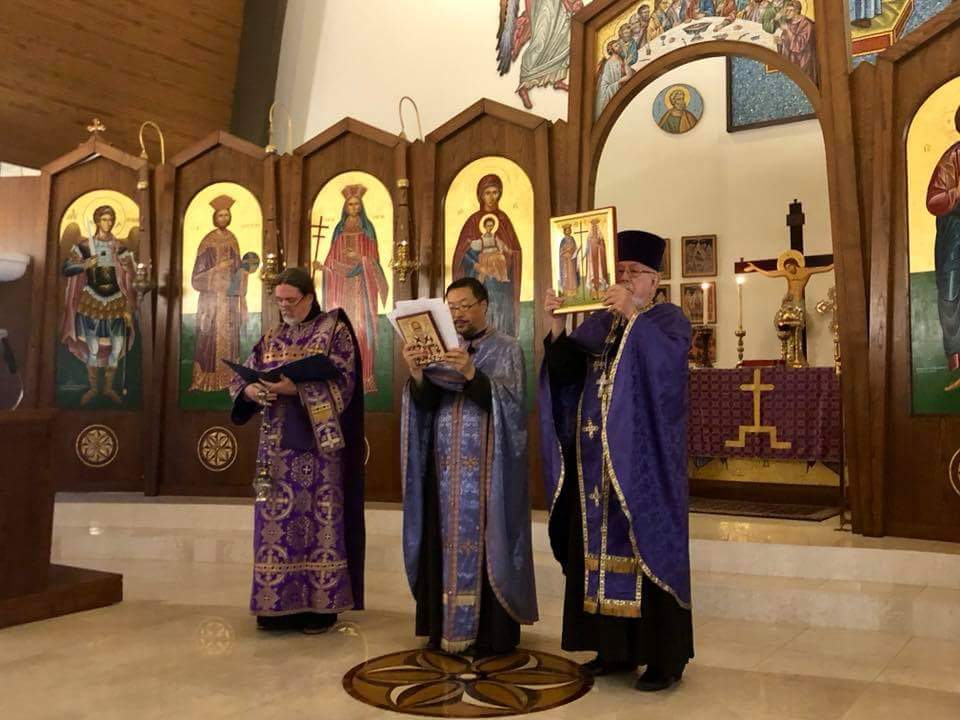 KITV Report on Miracle Icon of the Theotokos
---
Stewardship

Click here to download the 2019 Stewardship form
Click here to volunteer to share your time & talents in 2019
---
Please Support Us Through AmazonSmile!
When you shop @AmazonSmile, Amazon will make a donation to Saints Constantine & Helen Greek Orthodox Church. https://smile.amazon.com/ch/99-6009445 Amazon donates 0.5% of the price of eligible smile.amazon.com purchase to the charities selected by customers
Please click this logo to go to the site.

---
Be the Bee - Informational Videos About Orthodoxy
---
Hawaii Delegation to FDF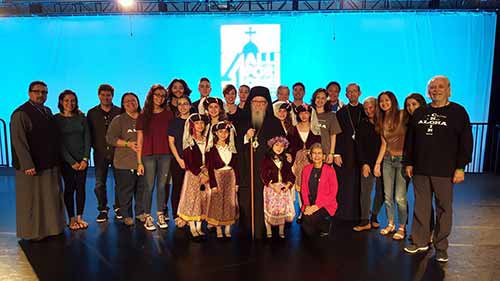 FDF 2017 - FRIDAY - SENIOR - Sts. Constantine and Helen - Nisiotes from Your FDF on Vimeo.
FDF 2017 - SATURDAY - SENIOR - Sts. Constantine and Helen - Nisiotes from Your FDF on Vimeo.
FDF 2017 - SATURDAY DIVISION IV - Sts. Constantine and Helen - Nisiopeda from Your FDF on Vimeo.
FDF 2017 - FRIDAY CHORAL DIVISION II - Sts. Constantine and Helen - Wahine Aloha from Your FDF on Vimeo.
---
Diakonia - Giving Back to the Community
These are Diakonia pictures of the 2 Dance Groups Nisiotes the Islanders and Nisiopeda Little Island Children.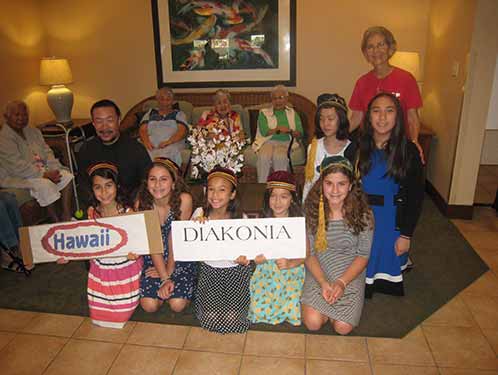 The Nisiopeda joined the adult choir from Saints Constantine Cathedral Greek Orthodox of the Pacific to sing and dance at The Plaza, a Senior Living Residence next door to the church.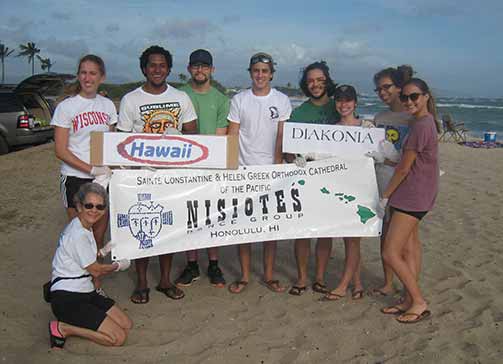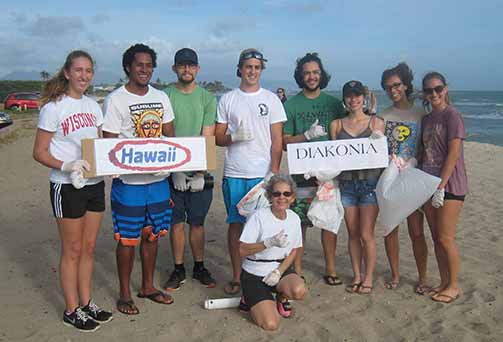 The Nisiotes asked friends to come and help them clean up Oneula Beach in Ewa Beach, Hawaii.
---
Extra Extra Read All About it…
Click on the following graphic to access monthly & weekly bulletins & calendars.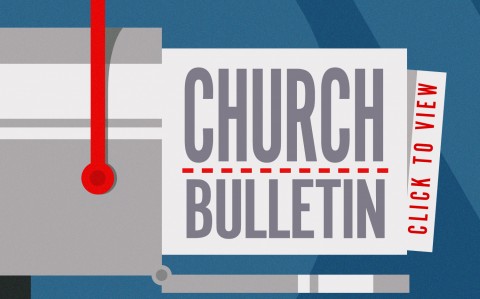 To receive your bulletin electronically, simply send an e-mail to the Church Office, at: office@greekorthodoxhawaii.org with "Bulletin Electronic Subscription" in the subject line.
Note: A limited number of bulletins will also be available in the narthex for our visitors and parishioners who want a printed copy. Due to postage increases Shorelines will no longer be mailed.
---
Stewardship: We Are Family
Stewardship is our response to God's grace and it moves us from grace to gratitude. Just as we love because God first loved us from 1 John 4:14, we give because God first gave to us.
Click here to go to the stewardship page
---
How to Schedule a Memorial Service
If you are interested in scheduling a Memorial Service for a loved one, please contact Father Alexander at the office so that he can schedule a date on the calendar.
---
Youth Ministry Guidelines
Please review the attached document to find out about the guidelines for children to qualify for funding from the parish to attend youth events.
If you have any questions please see Father Alexander or a member of the Parish Council.
---
Orthodox Study Center: Orthodoxy 101
Click here to jump Orthodoxy 101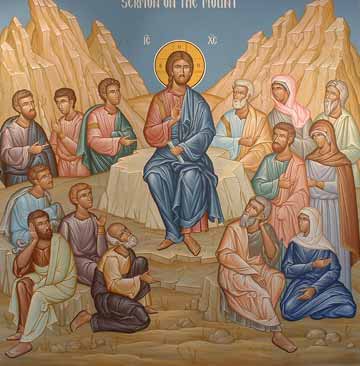 ---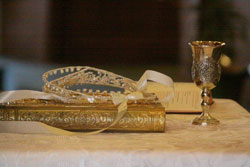 Wedding in Hawaii?
Orthodox couples from around the world have chosen to be married at Saints Constantine & Helen, the 'Cathedral in Paradise.'
Begin your wedding plans by contacting our Priest. Demand is high so we ask that you contact us early to plan your special day.
Voice: (808) 521-7220
Email: (Click Here) Rev. Fr. Alexander Leong, Dean
(Or Copy) fralexanderleong@yahoo.com
---
Special Services
At the center of the life of the Church is the Holy Eucharist, which is the principal celebration of our faith and the means through which we participate in the very life of the Holy Trinity. Learn more»
Parish Calendar